Accident and Trauma Emergency Treatment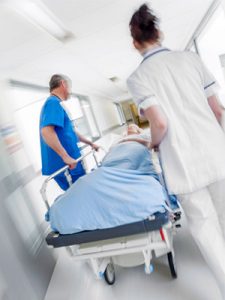 Increasing Urbanisation and rapidly growing vehicular traffic are out falling of road space and dangerously increasing density of vehicles per km; this leads to rising in road traffic accidents. Getting timely and adequate care is the key to prevention of most death. One point Contact to the TRAUMA Cell Just Call – 040 – 24039012.
The Trauma team takes charge of the situation. An Ambulance well equipped with lifesaving machine manned by trained personnel would be on the way within a few minutes.
Triage: The Trauma Team determines the severity of an injury, injury specific to body parts and identifies high-risk patients. The critically injured patients are immediately put on a life support system, and the patient is moved to the hospital for specific treatment.
Golden Hour: The first hour after the accident is considered the "Golden Hour ". It is critical in accident patients that the time gap between the accident and prescribed treatment and is minimised. This is made possible as Sai Sanjeevini Hospitals is well connected to the NH – 9 and our dedicated Trauma Service Unit, where the patients are quickly evaluated through diagnostics and gets the required treatment within the Golden Hour.
The department is managed by qualified general surgeons, Orthopaedic Surgeons, Neuro Surgeons, Plastic Surgeons, maxillofaciallary surgeons, intensivists and Urologists.
Intensive Care:
The Intensive Care Unit is managed by specialists specially trained to meet the requirement of critically ill patients. The Hospital has:
Intensive Medical Care Unit
Post-Operative Intensive Care Unit
Sai Sanjeevini Hospital has a well-equipped:
Post-Operative Intensive Care Unit.
24 hour Accident & Emergency services staffed by a team of Emergency expert doctors and nurses to provide the best preventive, diagnostic and emergency health care in every situation.
24 hours investigation services also open for Medico Legal Cases.
Facilities are available for all advanced orthopaedic surgeries with postoperative ICU care.
All types of services to deal with all surgical emergencies.
ABOUT THE HOSPITAL:
Sai Sanjeevini Multi Speciality Hospitals a unit of Singapanga Healthcare Pvt. Ltd has been providing health services to the people in need for the last 14 years. We provide a range of treatments with cutting edge technology for diagnostic and treatment purposes, with care and compassion. We believe that medicine and personal care are a great combination to help people recover faster and better. We also have a wide array of specialties including pulmonology, neurology, gynaecology and are pioneers among all Orthopedic Hospital in Hyderabad.