Arthroscopic Treatment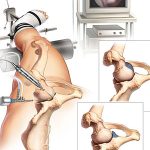 Arthroscopy is a surgical procedure that allows the doctor to look inside of a joint inside the body through a thin screening instrument called an arthroscope. It involves looking at the joint surfaces and the surrounding soft tissues, such as tissue that link bone to bone (ligaments) and the tough tissues. This procedure is also used to diagnose a joint problem, perform surgery that repairs a joint problem, remove a loose or foreign body, or monitor a disease or the effectiveness of treatment. Arthroscopy is commonly performed on the knee, shoulder, and ankle. It also can be done on the hip, elbow, and wrist.
Arthroscopic surgery can be used for various procedures which include:
Joint replacement
Hand surgery
Foot and ankle surgery
Shoulder and elbow surgery
Trauma and fracture care
ABOUT THE HOSPITAL:
Sai Sanjeevini Multi Speciality Hospitals a unit of Singapanga Healthcare Pvt. Ltd has been providing health services to the people in need for the last 14 years. We provide a range of treatments with cutting edge technology for diagnostic and treatment purposes, with care and compassion. We believe that medicine and personal care are a great combination to help people recover faster and better. We also have a wide array of specialties including pulmonology, neurology, gynaecology and are pioneers among all Orthopedic Hospital in Hyderabad.