Psychology Treatment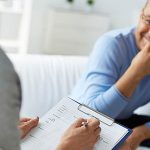 The Department of Psychiatry at Sai Sanjeevini Hospitals is one of the best departments in the city. Our main motto is to provide leadership in the city for the development of Mental Health Services at various levels.
Facilities:
To impart training of professionals and non-professionals in the field of Mental Health(awareness to research level).
To develop programs and service models in Mental Health Care at various levels.
To develop specialised training programs in different areas of interest like Child Mental Health, Community Mental Health, Family Mental Health, De Addiction and Psychotherapy.
To focus the work in the areas of Psychiatric Epidemiology, Psychiatric Classification and other areas related to major mental disorders
ABOUT THE HOSPITAL:
Sai Sanjeevini Multi Speciality Hospitals a unit of Singapanga Healthcare Pvt. Ltd has been providing health services to the people in need for the last 14 years. We provide a range of treatments with cutting edge technology for diagnostic and treatment purposes, with care and compassion. We believe that medicine and personal care are a great combination to help people recover faster and better. We also have a wide array of specialties including pulmonology, neurology, gynaecology and are pioneers among all Orthopedic Hospital in Hyderabad.