Dental care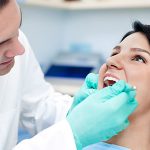 Dental care and oral hygiene is often a less focused area in a routine lifestyle. Most people just barely manage to brush teeth just because it is a need. Apart from just cleaning there is more to oral health which we usually neglect.
Dentistry is the area of medical sciences that deals with oral health and the treatments related to dental hygiene. It is also a less known fact that good dental health is proportional to having good health overall.
A dentist is a specialist is a qualified doctor who diagnoses and treats all problems related to the appearance and health of your teeth. Right from smile enhancement and designing to orthodontic treatments like braces and dental implants, Sai Sanjeevini Hospital has it ready for the benefit of your dental health.