Critical Care Department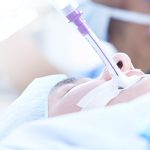 Critical care medicine or intensive-care medicine department at a hospital plays a significant role in the situations of Traumatic Injury, Stroke, Heart Attack, Surgery. A state-of-the-art facility, skilled doctors and experts are behind this crucial department.
The Intensive Care Unit is managed by specialists specially trained to meet the requirement of critically ill patients.
The hospital is equipped with:
Intensive Medical Care Unit
Postoperative Intensive Care Unit
Intensive Neuro Care Unit