Critical Care Department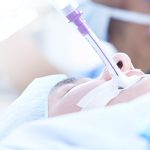 Critical care medicine or intensive-care medicine department at a hospital plays a significant role in the situations of Traumatic Injury, Stroke, Heart Attack, Surgery. A state-of-the-art facility, skilled doctors and experts are behind this crucial department.
The Intensive Care Unit is managed by specialists specially trained to meet the requirement of critically ill patients.
The hospital is equipped with:
Intensive Medical Care Unit
Postoperative Intensive Care Unit
Intensive Neuro Care Unit
ABOUT THE HOSPITAL:
Sai Sanjeevini Multi Speciality Hospitals a unit of Singapanga Healthcare Pvt. Ltd has been providing health services to the people in need for the last 14 years. We provide a range of treatments with cutting edge technology for diagnostic and treatment purposes, with care and compassion. We believe that medicine and personal care are a great combination to help people recover faster and better. We also have a wide array of specialties including pulmonology, neurology, gynaecology and are pioneers among all Orthopedic Hospital in Hyderabad.