Psychiatry Treatment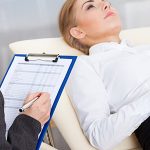 A human mind is a system that can remember, think, grasp and implement many tasks every day and hour. It is a crucial part of a person's stability psychologically, and physically.
Psychiatry is the area of medicine that deals with diagnosis, treatment and possible prevention of mental and behavioural disorders in a person. Psychiatry involves a broad range of mental health problems like depression, extreme mood swings, schizophrenia, etc., to name a few. These problems involve hallucinations and imaginary incidents that create extreme conditions in the patient.
A psychiatrist is a medically qualified doctor/ physician (an M.D. or D.O.) who specialises in mental health treatment. Psychiatrists clinically assess the mental and physical aspects of psychological problems in the patient and prescribe medications if there are symptoms of mental illnesses.
PROCEDURES AVAILABLE:
Personality Assessment
Dementia Assessment
Testing for Attention & Concentration
Testing for Memory
Neuropsychological Assessment
Aptitude Testing / Career Counseling
Adult Comprehensive Assessment
Mood Disorder
Stress and related Disorder
Addiction Problems
Personality Disorder